Noah Lodge #357 Trestleboard
July, 2011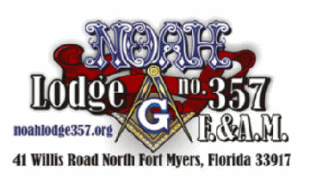 Officer's Messages Are Below

Click HERE for Noah Events Calendar

Worshipful Master:
Senior Warden:
Junior Warden:
Treasurer:
Secretary:
Chaplain:
Marshal:
Senior Deacon:
Junior Deacon:
Senior Steward:
Junior Steward:
Tyler:


WB Larry Newton
WB Lawrence Tomlinson
Br. James Hamilton
WB Thomas Reedy
WB Gerald Keeton
WB John McKinney
Br. John Duly
Br. Rhett Tillman
Br. Michael Gardner (Pro Tem)
Br. Robert Sabo (Pro Tem)
(Pro Tem)
Noah Lodge #357
Free and Accepted Masons
PO Box 3508
North Fort Myers, Florida 33918
(41 Willis Rd, N. Ft. Myers, FL 33917)
239-995-1657
Website: www.noahlodge357.org
Email: secretary@noahlodge357.org
Stated Communications : 2nd and 4th Monday
---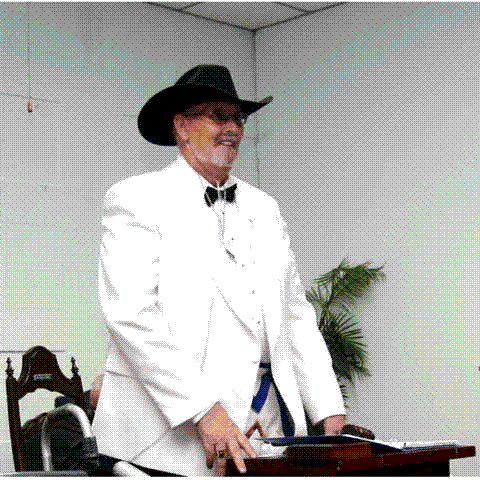 From the East


---
Greetings Brothers,

I hope that you are enjoying the beginning of summer as much I am. It's been a very good first half of our Masonic year and we have seen some really great changes not only at Grand Lodge when Grand Lodge saw the Craft stick together, but some Brothers in our lodge have stepped up to do some remodeling in our own lodge. If you haven't had the opportunity to see the work being done, come to lodge and see it for yourself. It's going to be great when it's finished.

The only problem is that the roof is very bad shape. An engineer will be looking at it and recommending what we might consider doing. We would appreciate any suggestions anyone has.

So far this year we have had B.B.Q.'s, a Spaghetti Dinner, honored our past masters and widows, and raised 5 Master Masons (1 was courtesy ). And if you missed any of it, you missed a lot, and the chance to see our Noah Brothers put on a very good degree.

The next half of the year promises to be just as full and rewarding with 2 applications for the E.A. Degree already. And the biggest B.B.Q yet with a live band, the child I.D. trailer, "bounce house" and more. We would like to also have a " Garage Sale " if someone would step up to the plate and chair this event(please).

You may or may not know that the church will be leaving the end of July or the first of August and moving into their own building. As much as we hate to see them move, I am extremely pleased to have had the opportunity to help their church grow by making our facility available. The last several years they have been at our lodge they have supported our functions and been an asset to our finances. I wish them well.

COME TO LODGE AND SEE WHAT'S NEW --- BE PART OF IT



Larry Newton
Worshipfull Master


---
From The West

Greetings Brothers,

WOW, what a fourth of July, isn't it great to be Independent? We are now into the second half of the year all Is well behind us, and all looks good ahead. Noah 357 Is going to have an EA degree this month and the new Master Masons are going to give their proficiency. We have a busy month with a few new candidates to be investigated. Been a while since you have been on a Investigating committee or never been on one show up In July 2nd and 4th Monday of the month and lend a hand, fellowship or just come and get out of the house. Help aide and assist.

Last month June we had the District Deputy Grand Master Richard W. Bayly and his committee men with him come and visit Noah Lodge. I say all let me correct that , the district Instructor did not show at the Lodge nor was there any mention of him during the meeting. We might not need any Instruction or we may not be worth Instructing. Either way we had a real nice visit with the DDGM and his party (excluding the DI). Wives were encouraged to come out and join us for dinner before Lodge and to get to know each other while the men were In Lodge. Dinner was served by the stewards and what a great dinner they did deliver. Lasagna, chicken marsala, salad, breadsticks and deserts – WOW. If you missed this dinner, this was the one that got away. The Chaplain blessed the food and all began to enjoy this wonderful meal prepared for all the Brothers. The Ladies had a secret meeting while we were In Lodge hearing what the committee men had to report to the members of Noah 357.

Remember how the Lodge used to look? If not you need to go and get another gander (look) at It. Changes are coming around real fast. We have several new Brothers along with (no pun intended) some older Brothers, who have taken the duty to give Your Lodge a facelift. There Is tile around the Altar, new doors entering the Lodgeroom, new flooring up and down the hallway and setting room. A lot of walls have been painted and some walls are being completely redone. So much to lIst I know I missed something that they have done. There are many plans on the board still to be completed. Wanna lend a hand? Show up 2nd and 4th Monday see where you can help.

Doesn't look like we will be going dark this year, and that gives you another couple months to enjoy Lodge with your Brothers. Below are just a few pictures from our last B-B-Q and a picture from Circle-K's Noah Lodge gas day In NFM. 'Til I see you In Lodge, My family and I wish all well.

Lawrence A.Tomlinson,
Senior Warden.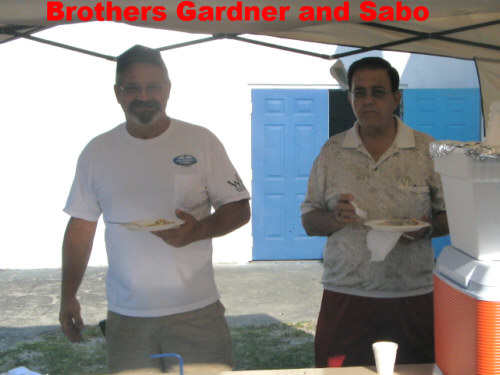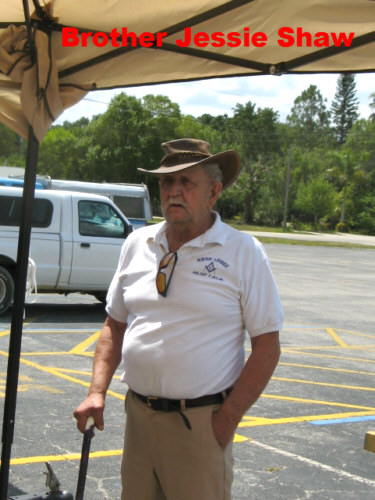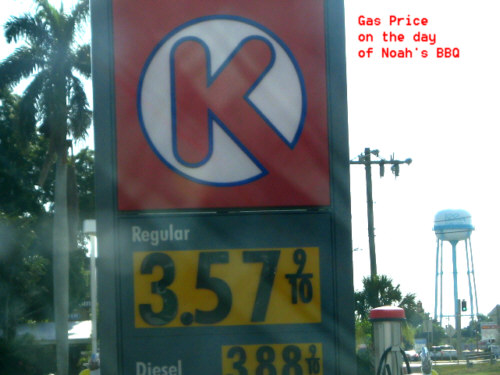 ---
From The South
Observing the time
Greetings Brothers,

I have to share a little secret with you. There is a little known place in North Fort Myers. We visited last night that served the most delicious dinner that i have had in awhile.

The Chicken Marsala was divine, the lasagna was perfection, the salad was fresh crisp and refreshing and even the breadsticks were something that received rave reviews.

The (newly remodeled) decor provided a charming atmosphere in which to enjoy the company of friends old and new.

The service was delivered with a smile and not a person in the house left unsatisfied as the evening was enjoyed by all.

The Ladies all looked lovely, their eyes sparkled as did their personalities and the Gentlemen were excellent company and provided interesting conversation throughout.

The place is our own Noah Lodge and the evening was provided courtesy of our newly raised Brothers who have been working very hard and giving of themselves to show their appreciation for being welcomed into the Brotherhood.

If you missed it then I've gotta tell you that you really should stop by and see the changes in our lodge.

We had the honor of being the first official visit for the new RWDDGM and his party and in his usual show of support for Noah Lodge RWPDDGM Jerry Timberlake was on hand to add to the list of dignitaries.

Things at Noah are a'changin' and if we can't entice you to come check it out with good food,great company and plush surroundings then maybe curiosity alone can be the motivating force. If all of that fails just come in and complain about stuff that always drew a crowd in the past who knows it could work again.

We have rescheduled the Entered Apprentice degree for the second meeting in July, which is Monday the 25th. It would be great to have the craft turn out in force to help welcome the new Brother, as the new Brothers are the future of Noah as has been amply demonstrated recently.

Fraternally Yours


Br. James Hamilton,
Junior Warden
---
From The Secretary's Desk
Our Secretary has been playing Doctor Pinball (he's the pinball) this month, so his article will be delayed a bit.)

---
From The Chaplain's Station
Lazy Days of Summer
My Brothers,

We are halfway through the year 2011. Have we accomplished half of what we wanted to do this year?

Have we served God and our fellow Man half as much as we resolved to?

My Brothers, we have a choice; we can now double up and still reach our goals, or we can "wait until next year" - the choice is ours.

As we celebrate Independence Day, let us remember all those who have served to keep the greatness of America, and say a prayer for all of those who serve today and for their families as well.

Have a safe and happy 4th. May God bless you every day in every way.


John McKinney
Chaplain

---
From Our District Deputy Grand Master


Fraternally,

R.W. Jerry Timberlake
DDGM, District 28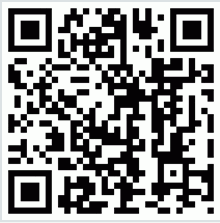 Click "Home" Button to Visit Noah's Web Lodge:


---
Past Masters Of Noah Lodge